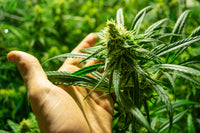 Not all CBD is Created Equal
When it comes to therapeutic topicals and nutritional supplements, quality matters. With so many CBD and hemp products on the market these days, it pays to turn to a source you can trust.
Quality at Northern Star starts with premium hemp, grown in healthy organic soil by knowledgeable farmers, then harvested and processed with care. Next is careful product development and production by committed artisans. Our final products are third party lab tested, to help us be confident that we did our hard work well. We stand behind our quality with a money back guarantee. All our products meet the Federal legal requirements.
Northern Star Botanicals is a woman-owned small business. Premium CBD and hemp goods, crafted with pride in Minnesota.
Featured Goods : BEST SELLERS