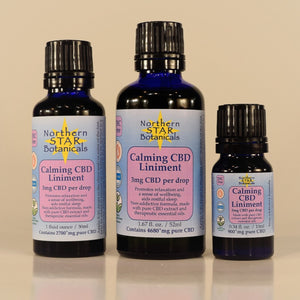 Inventory Reduction Sale : All CBD products BOGO while supply lasts.  Call 651-343-4512 to order. 
Calming CBD Liniment promotes relaxation and a sense of wellbeing.  Combining the benefits of aromatherapy and CBD, it can help reduce anxiety and aid restful sleep. This all natural, non-addictive formula is made with pure CBD extract and therapeutic essential oils.  One drop of liniment contains 3 mg of CBD.
Third party lab tested : 0% THC
1/3 ounce (10 ml) bottle contains 900+ mg pure CBD, 1 ounce (30 ml) bottle contains 2700+ mg pure CBD, and 1.67 ounce (52 ml) bottle contains 4500+ mg pure CBD from organically grown, non-GMO hemp. 
Suggested Use : Apply 5-20 drops to the chest and/or bottoms of the feet, and massage into the skin.  May be added to a natural oil or lotion to cover a larger area.  Avoid getting liniment in the eyes, mucous membranes or non-intact skin. If application is not tolerated or if skin irritation occurs, reduce amount applied or discontinue use.
How long will a bottle of liniment last ?  Using an average of 10 drops (30+ mg CBD) each time, a 1/6 ounce bottle contains approximately 30 applications, a 1 ounce bottle contains approximately 90 applications, and a 1.67 ounce bottle contains approximately 156 applications.
Contains : Golden Jojoba Oil*, pure CBD isolate* from non-GMO hemp, proprietary therapeutic essential oil blend.                               *Certified Organic
Wholesale inquiries may be directed to Ramona@NorthernStarBotanicals.com
Northern Star Botanicals is a woman-owned small business. Premium CBD and Hemp goods crafted with pride in Minnesota.