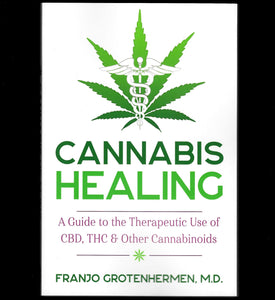 Cannabis Healing :  A Guide to the Therapeutic Use of CBD, THC & Other Cannabinoids, by Franjo Grotenhermen, MD
232 pages. Published in German in 1997, first English edition published in USA in 2020.
Written by a practicing physician, this guide provides everything you need to know to use cannabinoids safely and effectively for physical and emotional health and healing.  The author examines the important role marijuana played in Medicine in the US during the 19th Century, the biochemistry of cannabinoids and how they interact with the human body.  He describes therapeutic applications for CBD to treat seizures, epilepsy, anxiety, cancer, muscular disorders, and psychotic states.  He explains uses of THC to treat Schizophrenia, Alzheimer's, ADHD, Tourette's Syndrome, Parkinson's Disease, impotence, depression, Lupus, COPD and chronic pain.
About the author :  Dr. Franjo Grotenhermen is recognized as a top expert on the therapeutic use of cannabinoids.  The author of many articles and books on the subject, he is executive director and a board member of the International Association for Cannabinoid Medicines (IACM) and its sister organization, the German Association for Medical Cannabis.  Dr Grotenhermen lives in Germany.