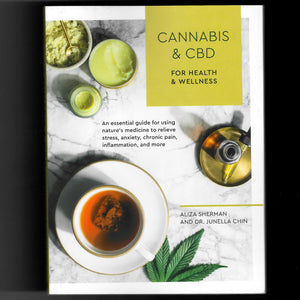 Cannabis & CBD for Health & Wellness, by Aliza Sherman and Dr. Junella Chin

167 pages with many full color photos. Published in 2019.
A comprehensive, easy-to-use guide to safely use CBD and THC in all its forms to relieve acute and chronic health issues such as pain, insomnia, inflammation, depression, anxiety, grief and stress.  Includes chapters on the history of cannabis, cannabinoids, terpenes, the Endocannabinoid System, micro-dosing and much more.  The book also addresses the most common misconceptions about the cannabis plant and its uses.
About the authors :  Aliza Sherman is the cofounder of Ellementa, a women's network focused on health, wellbeing and cannabis.  She is the author of twelve books and has been feathured in USA Today, US News and World Report, People, Time, Newsweek, Fast Company, and Forbes and on CNN and CNBC.
Dr. Junella Chin is an osteopathic physician, the founder and CMO of the integrative medicine practice MedLeafRX, and director of education for the Association of Cannabis Specialists.  She has been an advocate for better understanding the science and medicine of marijuana for more than a decade.  Dr. Chin has been featured by St. Jude Medical, Cornell Tech, USA Today, and NBC's Today Show.