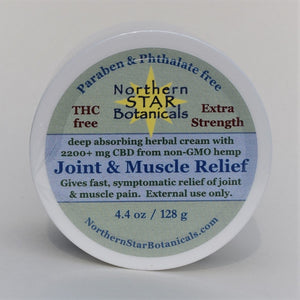 Northern Star Botanicals Extra Strength Joint & Muscle Relief Cream gives symptomatic relief of musculoskeletal pain.  Made with Certified Organic anti-inflammatory oils, herbal extracts, CBD and therapeutic essential oils in a deep absorbing base cream.  Combines aromatherapy and CBD to provide fast pain relief without narcotics.  A little goes a long way !  The high bioavailability of this cream lets you use less to achieve your comfort goals.  Paraben and Phthalate free.
Third Party Lab Tested : 0% THC
Suggested Use : Apply as needed to painful joints and muscles, and massage in well.  Joint & Muscle Relief Cream makes a great pre-massage treatment.  Avoid the eyes, mucous membranes and non-intact skin.  If irritation occurs, decrease amount applied or discontinue use.  For external use only.  Not intended for children under 6 years.
Massage therapists and other Health Care professionals may qualify for our 10% professional discount.  Contact Ramona@NorthernStarBotanicals.com
500+ mg pure CBD** per ounce :  0.72 ounce jar contains 354+ mg , 1.5 ounce jar contains 750+ mg , 2.2 ounce jar contains 1100+ mg, 4.4 ounce jar contains 2200+ mg and 8.4 ounce jar contains 4200+ mg pure CBD isolate from organically grown, non-GMO hemp.
Note : This product provides symptomatic relief of pain.  It does not cure the underlying cause of pain, and should not take the place of evaluation from a medical professional.
Ingredients :   Aloe Vera Juice*, Mango Butter*, Coconut Oil*, Rooibos Tea Extract*, pure Beeswax, Vegetable Glycerin*, Olive Oil*, Sustainable Source Palm Oil*, Golden Jojoba Oil*, Arnica-infused Avocado Oil*, Witch Hazel, pure CBD** isolate, therapeutic essential oil blend,  Vitamin E, Xanthan Gum, Willow Bark Extract*, Rosemary Leaf Extract*, Neem Oil, Citric Acid to balance pH.
* Certified Organic
**From non-GMO hemp, organically grown.  Pure CBD isolate does not contain THC, the psychoactive component of hemp.
Wholesale inquiries may be directed to Ramona@NorthernStarBotanicals.com
Northern Star Botanicals is a woman-owned small business.  Premium CBD and Hemp goods crafted with pride in Minnesota.